Ekewill
Ekewill Off GTX-2 Road Electric Skateboard
Sale price Price $2,699.00 Regular price $2,799.00 Unit price / per
EKEWILL Off-Road Electric Powered Skateboard GS-2

Board Material:Canadian Maple Composite Deck

Body Color:Black

Hill Climb:2WD 30%40% Grade (slop 16.7-21.8)

Brand:EKEWILL

Board Model:GS/2WD

Max Payload:150/kg

Motor:2*63 Brushless Planetary Gear Motor
              450Wh /Samsung Battery Core/18650

Battery:Lithium Battery
Battery capacity:15AH 

Board type:Electric Powered Skateboard

Recharge Mileage:20-25/Kilometer

Top Speed:40-50Km/kph

Brakes:Regenerative braking

Recharge Time:2.5 Hours

Rechager: American Standard 5A Charger/Aviation Plug

Lights:LED 2 colors3 Mode /Independent Module

Tyre Size:200/50mm

Tyer Material:High Quality Rubber infatale Wheel

Board Weight:17Kg

Transmission:2-Wheel Drive/Back Wheel Drive
                        165mmSpring Shock Absorber/Hydraulic Damping

Shock Absorbers:Shock Absorber Made in Taiwan

Hand Controller:Wireless 2.4GHz

Controller Material:Polymer Case /fire Proof,Moisture Proo/anti-static

Frame Structure: Double A Arm/Independent Suspension Structure

Frame Size: Alloy Aviation Aluminum

Board Size:1120*480*195/mm

Package Size: 1170*510*270/mm

Board Weight: 23KG
EKEWILL Off-Road Electric Powered Skateboard GTX-2

Board Material: Canadian Maple Composite Deck

BodyColor: Black

Hill Cimb: 4-Wheel Drive 50%-60% Grade (Slop 26.6-31.0)

Brand: EKEWILL

Board Model: GTX/4WD

Max Payload: 150/kg

Motor: 4x63 Brushless Planetary Gear Motor
               900Wh / Samsung Battery Core/18650

Battery:Lithium Battery
Battery capacity:30AH 

Board type: Electric Powered Skateboard

Recharge Mileage:30-35/Kilometers

Top Speed:40-50Km/kph

Brakes:Regenerative braking

Recharge Time:5 Hours

Rechager:American Standard SA Charger/Aviation Plug

Lights:LED 2 colors 3 Mode /Independent Module

Tyre Size:200/50mm

Tyer Material:High Quality Rubber inflatale Wheel

Board Weight:23Kg

Transmission:4Wheel Drive/Front and rear wheel drive
                       165mm Spring Shock Absorber/Hydraulic Damping

Shock Absorbers:Shock Absorber Made in Taiwan

Hand Controller;Wireless 2.4GH2

Controller Material:Polymer Case /fire Proof,Moisture Proof/anti-static

Frame Structure:Double A Arm/independent Suspension Structure

Frame Size:Alloy Aviation Aluminum

Board Size:1120*480*195/mm

Package Size:1170*510*270/mm

Board Weight:29Kg
We provide 8-inch and 8.5-inch tires for your choice. Please email us to place an order. The default order is 8 inches.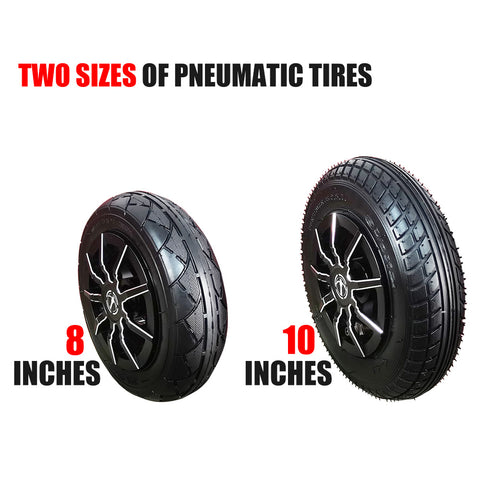 Our exclusive designed wheels can be matched with various sizes of pneumatic tires. The elasticity of pneumatic tires ensures stability during high-speed driving.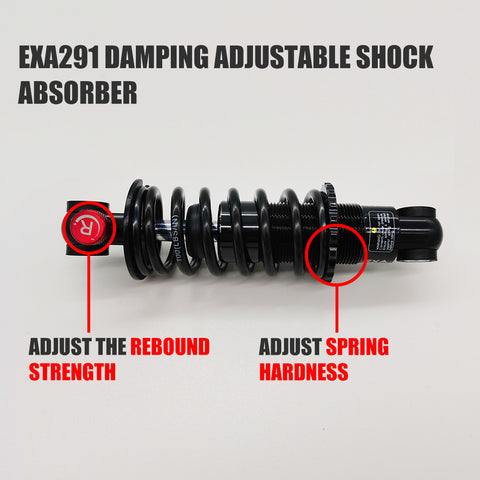 Taiwan damping adjustable shock absorber. Better shock absorbers will make you feel more comfortable.
The adjustable spring developed exclusively by us, you can adjust the tightness of the spring according to your needs. Springs with different degrees of tightness can adapt to more road conditions.